The Event Marketing Guide
Unravelling the best of B2B event marketing insights, lead-gen
tactics, event technology and much more.
Despite the exponential growth in digital, traditional event marketing still remains an essential avenue for brands to develop and foster deep relationships with their buyers, prospects, and partners.
B2B marketing events present an excellent platform for brands to form meaningful connections because they offer opportunities to deliver in-person experiences at scale. Surveys indicate that 50% of attendees at trade shows are new prospects and 77% of attendees found at least one supplier from their most recent trade show.
All of this clearly points to one act—B2B events are one of the most potent marketing channels and used by businesses of all scales, across industries.
Why are B2B events such an important marketing channel for companies?
According to a study:
Between 2017 and 2018, the number of
companies organizing 20 or more
events per year increased by 17%.
The majority of company leaders are
supportive of their company's event strategies, but this support is
contingent on the ability of event
teams to prove ROI.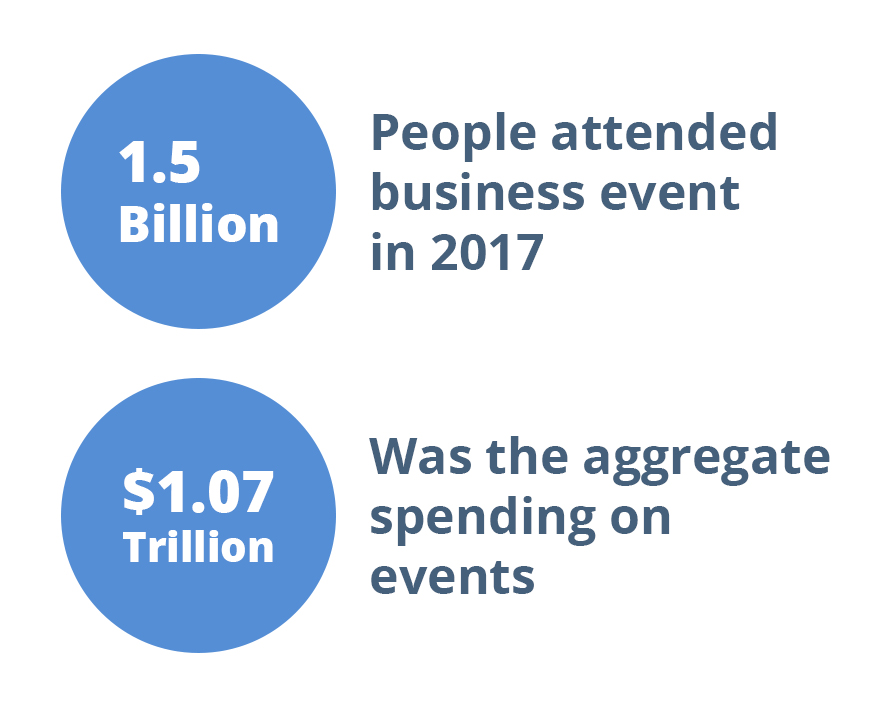 Why are B2B events such an important marketing channel for companies?
According to a study:
Between 2017 and 2018, the number of
companies organizing 20 or more
events per year increased by 17%.
The majority of company leaders are
supportive of their company's event strategies, but this support is
contingent on the ability of event
teams to prove ROI.
People attended business event in 2017
Was the aggregate spending on events
Why are B2B events such an important
marketing channel for companies?
According to a study:
Between 2017 and 2018, the number of companies organizing 20 or more events per year increased by 17%.
The majority of company leaders are supportive of their company's event strategies, but this support is contingent on the ability of event teams to prove ROI.
People attended business
event in 2017
Was the aggregate spending
on events
Ultimately, the core objective of investing in event marketing is to generate more qualified leads and increase sales revenue.
Events go a long way in building your brand,
creating awareness, building loyalty—in the end
what do businesses want all this to translate to?
More qualified leads and sales. That's why
businesses are increasingly willing to spend
more and more of their overall marketing
budgets on B2B events.
As a marketer, your goal should be to create the best lead capture opportunities at events.
Having put in all the hard work, weeks of
brainstorming, and thousands of dollars, your
end goal is to capture qualified leads and
eventually turn them into paying customers.
Like any other discipline, there's a science and
art to event marketing. Combining interpersonal
skills with the right marketing technology tools
can help you achieve the best results at B2B events.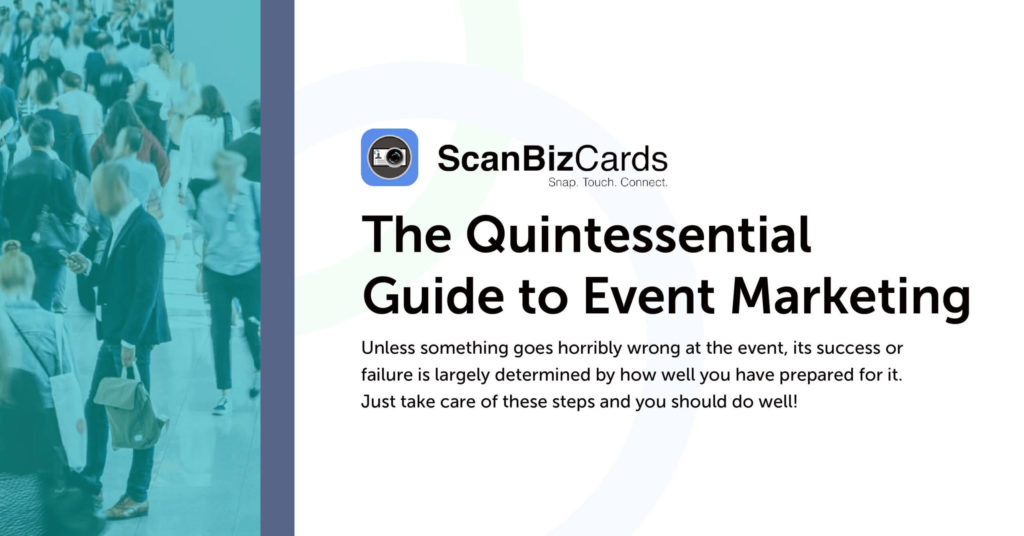 Learn how to combine B2B event marketing best-practices with the right martech tools in your B2B event marketing strategy for maximum output.
The approach to a winning event marketing strategy.
Events are expensive and require meticulous planning and execution to be successful. But done right,
they are the single most effective sales and marketing channel that not only justifies the ROI by offering
more and better-qualified leads, but is also a key building block for a brand. The key is to keep
measuring performance, know what's working, what isn't, and making continuous improvements. Here's
a step-by-step guide to building your winning event marketing plan.
Building your event marketing plan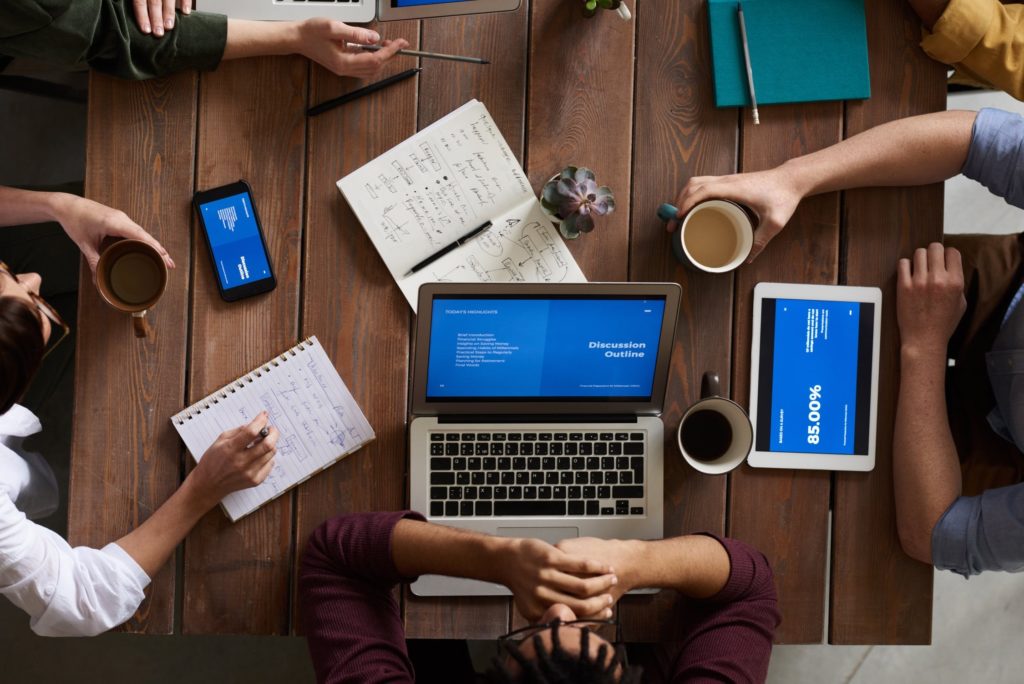 Conferences, trade shows, seminars, conventions, trade shows – there are various types of marketing events that bring together major players in the industry under one roof, creating a potential opportunity for both exhibitors and attendees to demonstrate or display their products or services offerings
Events offer a great chance to meet with new prospects, and existing and potential partners and customers. But, organizing an event requires great planning, management, and execution. Without a well-laid out pre-show strategy in place, your chances of success can be adversely affected.
One of the most important components of an event strategy is your marketing plan. No one single strategy works for all – every event is unique and businesses must pick strategies that work best for them. The following list will serve as an excellent resource for event teams to maximize audience registration and footfall.
Know Your Story
When you start devising your market plan, outline your brand story. Work closely with the marketing team during the initial stages of planning to get the ideas flowing. Some of the topics that you should address are:
The theme of the event
Reason to hold the event
The budget that will be allocated to each team for the event
The participants you seek to attract
How the attendees stand to benefit from the show
Is the event being held for your brand image building or because you want the audience to benefit
Measures that you will use to determine its success
Finalize the Budget
One of the very first things that need to be established is the budget. It might be tempting to get down to the creation of the content for the event, promoting it with the media, calling customers; but without a budget, your planning will go awry. For example, if the marketing team is not assigned a budget they might spend a lot on glossy banners only to see that the customer base that you seek to attract works better with other forms of content marketing.
Design an Attractive Event Webpage with Appropriate CTAs
An attractive event webpage will act as a positive user experience. This will generate more enthusiasm for the event. The things that should be kept in mind are:
Design an event page such that your brand can be easily identified
Have a compelling copy for the audience to read. Don't forget to mention the details of the event – time, venue, why it should be attended
Use of colors and fonts should be consistent throughout the page
Add the images and the bios of those who will be speaking at the event. You can also add videos of short interviews with them so that the viewers know the kind of talk show that the event is planning to host
Have a registration button that is easily visible on the page and make the registration form a very easy one to fill
Attract the audience further by, say, announcing giveaways for those who are registering
Display testimonials and another social buzz that your forthcoming event is creating on the webpage
Have an Effective & Engaging Content Strategy
The event will be a single day affair. Hence, so as to maximize the returns on that day, one needs to start building the anticipation from before. One effective way this can be done is by having a content strategy in place. Content is of two types – informative and buzz.
The informative content that you can create can be:
Of behind-the-scenes activity that is happening before the event
Of how the product of your company is a unique one
Of what are the things that the attendees have to look forward to
Of people from your organization who will speak at the event
Special incentives being given for those who register
Details about your sponsors
If there are speakers from your company who will be speaking at the event, then videos of them sharing their thoughts on the product, about their background, or even their short interviews can be made a part of the content strategy. Such video series engages viewers and increases the excitement before the actual day of the event.
The buzz content that you can create can be:
Create a fan page on Facebook. Here you can hold contests for those who register early or give early bird discounts.
Tweet with a particular hashtag that starts to trend on twitter
Distribute T-shirts with the event's logo at various venues and then ask people to send you photos of themselves wearing it
Humorous memes of members of your team when they are working for the event
Whatever content that you write, should be based on a pre-planned content calendar. You must know which piece will be shared when. This will help you to assess if there are any blanks that you need to fill and if there are days when too much content is being shared.
Device an Email Campaign
An email campaign involves careful planning. The factors to be kept in mind are:
Correct Timing
Sending emails about the forthcoming event needs to happen over a period of time. This strategy, known as a nurture email campaign, keeps the audience engaged. It slowly nudges the audience to register for the event. The campaign should be methodically designed so that the recipients or audience doesn't get bombarded with emails that result in lower Open Rates (OR) and Click-through Rates (CTR).
Segmented Emails
While sending emails, don't have just one draft that is sent to all. The recipients need to be segmented based on their job, geography, industry of operation. Based on such criteria, different emails need to be designed. This will lead to increased click-through rates which, in turn, will lead to more registrations.
Some of the emails that you can send are:
A 'save the date' announcement
A formal invite – remember to send it again, a few days before the event, to those who did not respond the first time
Advantages of attending the event
The freebies that can be won
The registration link and any promo codes in case discounts are available
Tell People Why They Should Come
When people are invited to attend an event, the first thing they do is "How will I benefit from it?" Thus, a pre-event marketing plan needs to answer this question clearly. Devise your emails, news-letter, blogs on the event page in such a manner that your value proposition is communicated to the audience with clarity.
Generate Publicity with Help of Others
Convince the Decision-makers
Even if a person wants to register for the event that you plan to participate in, it could be that his superiors are not sold on the idea yet. Hence, it is important, during the pre-event stage, to communicate to the influencers and the decision-makers about the forthcoming event. If they are convinced, the number of people who will register for the event will shoot up.
Make Past Attendees Speak Up for You
If you have participated in events before, you would already have a database of attendees from those. From these lists, the ones who got converted can be reached out to. They can become your advocate and generate word-of-mouth about the forthcoming event that you will be participating in. Such attendees can be given a discount on your product or freebies if they can get people to register with the link that they shared on various social media sites.
Reach Out to Partners
Reaching out to complementary brands and people from the media to promote your participation in the forthcoming event will give you more visibility.
Promote Guest Posts
The traffic to your website will increase if you have blogs being written by others. This form of thought leadership will create more buzz about the event and help you in getting more registrations before the D-day.
Paid Promotions
When you are making financial plans for the event, always keep a little aside for paid promotions. These can be advertisements on social media or Google Adwords. Focus on this a couple of weeks before the event to reap the maximum benefit.
Reach Out on the Phone
You might notice that some who had pre-registered are yet to buy the tickets. Pick up the phone and call them. What your marketing team might not have been able to achieve, you can. Speak to them and ask them if you can solve their queries. Don't over-sell, but do make a convincing pitch.
Have Sponsors
Have sponsors for your event. They will have their own customer base. Hence, having a co-marketing strategy with them would mean attracting a larger customer base.
Approach the Media
An important component of a pre-event marketing plan is getting media coverage. The more the media talks about you and the event, the more ticket sales you are likely to generate. It will also drive a lot of traffic to your website and go a long way in building a stronger brand image.
Remind People of the Past
Showing instead of telling works well. So, if you have participated in events before, share it on social media sites. These could be both pictures or videos. If you can get video testimonials that will add to the enthusiasm and the build-up that is being created.
Have KPIs to Measure Success of Pre-event Tactics
What sounds like a great marketing strategy on paper might not always be the best for you. Hence, you need to know your audience and your market well so as to be able to devise the right pre-event plan. So that you can assess if the plan is working for you or not, you must have KPIs to measure the success of your campaign. While some of the KPIs can be how many times people are sharing your event on various social media sites or what the click-through rate for keyword biddings on AdWords is, the best measure is to see the number of people who are registering for the event.
Having the perfect pre-event marketing plan can seem like a daunting task. The good news is that nowadays there are many tools that have made planning easier. And when all is done, go on and make a lot of noise – after all, it is your event.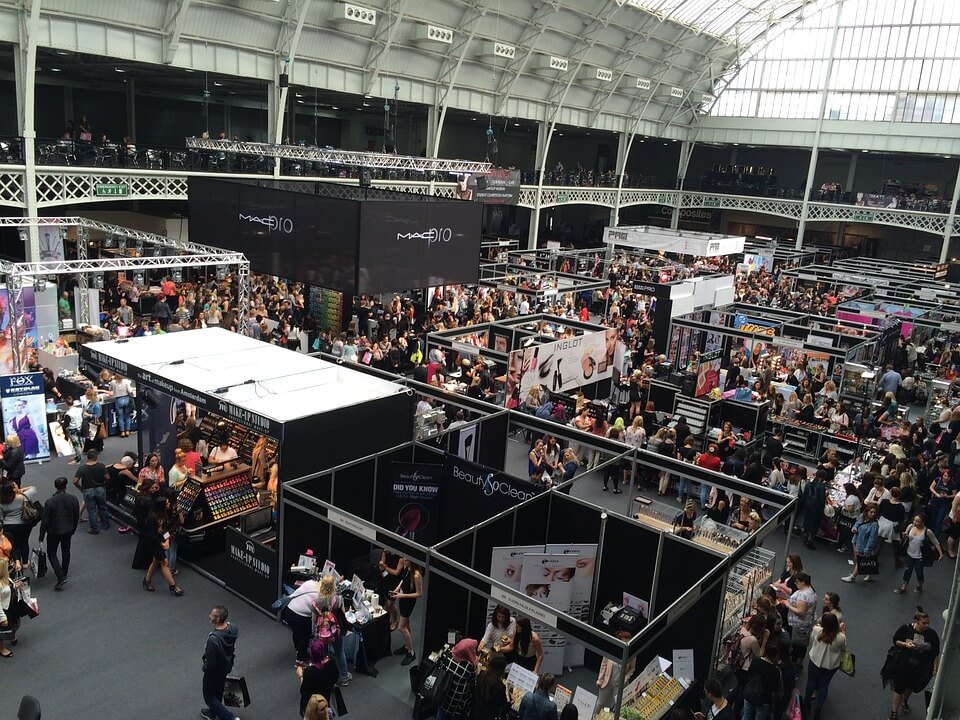 Having a proper plan for the event day is as important as having a pre-event marketing plan was. The below list is what you need to bear in mind on the day of the show so as to maximize your ROI.
Use the Latest Apps
If you are thinking of having a fishbowl where you will collect the attendees' business cards or get them to fill in forms, then you are living in prehistoric times. If you want to increase your lead generation at B2B events then you have to start automating your process. For example, a business card scanning app can scan all the details from a business card and import it immediately into your CRM. All information on potential clients thus gets stored in one place.
On the day of the show, your goal should be to capture leads, so equip your team with the right tools, like the ScanBizCards business card scanner and event badge scanner to capture leads. It will help you create a detailed database accurately and quickly. This comes in handy during the post-event follow-up stage as well. Because that's where your sales follow-ups come in!
Use a User-friendly CRM Tool
Having a proper CRM tool to feed in all the leads will help your staff to stay organized on the day of the show.
Keep this a user-friendly one so that all can use it without any hitches.
Get your marketing team to coordinate with your IT team prior to the show so they are all well versed with the usage of the app. Visuals always work better than written hand-outs. So, train them using video sessions.
Create a buddy system so that the new inductees can reach out to those who are already aware of the tool. They will be more open with their queries and the learning will be quicker.
Choose the Best Staff for the Booth
The primary objective of an event is to create leads. For this, those working at the event need to meet people, talk to them, convince them that your product would benefit them, and get their contacts. Hence, when you are choosing the people who will be the face of your organization at the event, always choose your best staff.
They need to be able to talk fluently and not stammer or ramble
They should listen to the customers and be ready to answer all their queries
They should be well versed with the product
They should be impeccably dressed
They should have the right attitude and look motivated and not appear to be lazy, gruff, or disinterested
Post Live Content
When the event is on, the content that needs to be generated is a 'live' one. Your employees may just start feeling like a reporter on the move! This will not only keep the ones attending informed of what is happening, but it would also be a sure-shot way of keeping the buzz alive for those who did not come. If social media is talking as the event is on, there is a full chance of the footfall increasing. There will be that group, too, who wanted to come but could not make it. Knowing about the happenings will keep their interest alive and they are likely to reach out to post the event. So there – you will have a conversion even without attendance.
One of the best social media sites for live content buzz is Twitter.
Have a team managing your Twitter presence on the event day. The moment someone comments or tweets, promptly respond. This keeps the engagement with partners and influencers alive, which, in turn, drives more traffic to your event's webpage.
Remember to have a hashtag that you will use for all your tweets. Start using this hashtag from before the event so that it is trending on the day of your event.
Don't shy away from posting on other portals as well. For example, portals like Reddit and Medium have a huge outreach and can create quite a buzz for you.
Have a Strategy to Attract Leads
Since the main focus on the event day is to capture as many leads as possible, you need to have a strategy in place to attract them to your booth.
Start this engagement a few days before the event
While you talk about your excitement about the event, seek their comments and thoughts on the same as well
Tag those in your network and ask about their interest in the event and if they would go with you
Run contests on social media and reward them with, say, t-shirts with your event's logo and free passes to the after-party event
Everyone likes a free gift. So, on the event day, offer those who visit, say, a sample product (if possible), a branded pen, or a discount coupon when they purchase your product for the first purchase. Use this time to also engage with them in a conversation and get their contact details. Have a credible business card scanning app to automate this task for you.
Yes, when you are chalking out your budget keep some aside for freebies. Once your lead conversions start happening and the sales shoot up, you will see that all the bonus offers were worth it. Not to forget giveaways add a personal touch to a sales pitch because of which the attendees go home feeling satisfied and hence spread the good word about your brand.
Create Buzz with User-generated Content
User-generated content will not only save you a lot of time but it also has the edge over the content that your in-house team writes as it helps to boost the event's visibility. It is easy to leverage user-generated content. All you need to do is to run a giveaway prior to the event. Once this is done, tell them to share images of themselves on social media sites, with the giveaways. There is a catch here – What if you are yet to be regarded as a leader of your industry? Why would people post their pictures then? Here's how you can incentivize them. If they post, offer them, say, discount coupons or a gift card, that they can collect from your booth on the event day.
Participate in the Talk Show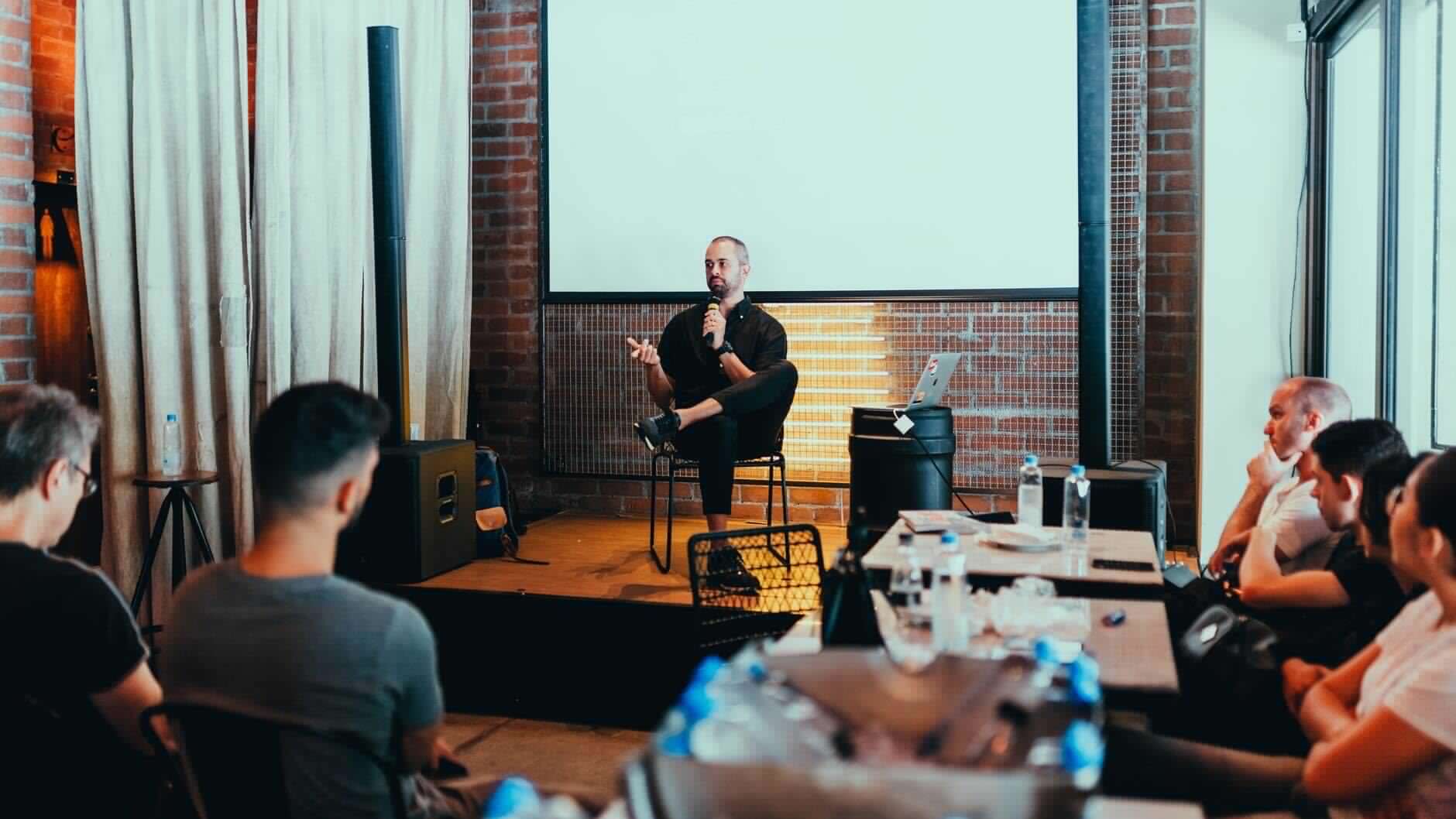 Most trade shows have a talk show where eminent leaders from the industry share their thoughts, discuss various products, and also participate in a question-answer session. When you are participating in an event, take part in these talks as it will build your image as a leader in the industry. This will get more leads to your booth. So that your talk goes well, remember to:
Prepare in advance what you will talk about. This will give you clarity on what message you want to send across to your potential customers
Keep a reference list with the key pointers handy on the day of the talk
When two people speak at the same time, no one hears the other – this makes the endeavor unproductive. Hence, if someone interrupts you, allow them to finish their points before you start to address yours again
Have the correct body language. Sit upright and look at the audience often. This makes you look more sincere
Talking about the same thing can get boring. So, when things start to get a little dry, change the direction – talk of your own journey or add humor – to get the attendees' attention back to you
Summarise your key points before the talk is over sot at the audience retain your main message
Often marketers forget about having a post-event strategy in place. However, it is a very important aspect of an event – closure and analysis are needed. More so, if you plan to host such events regularly.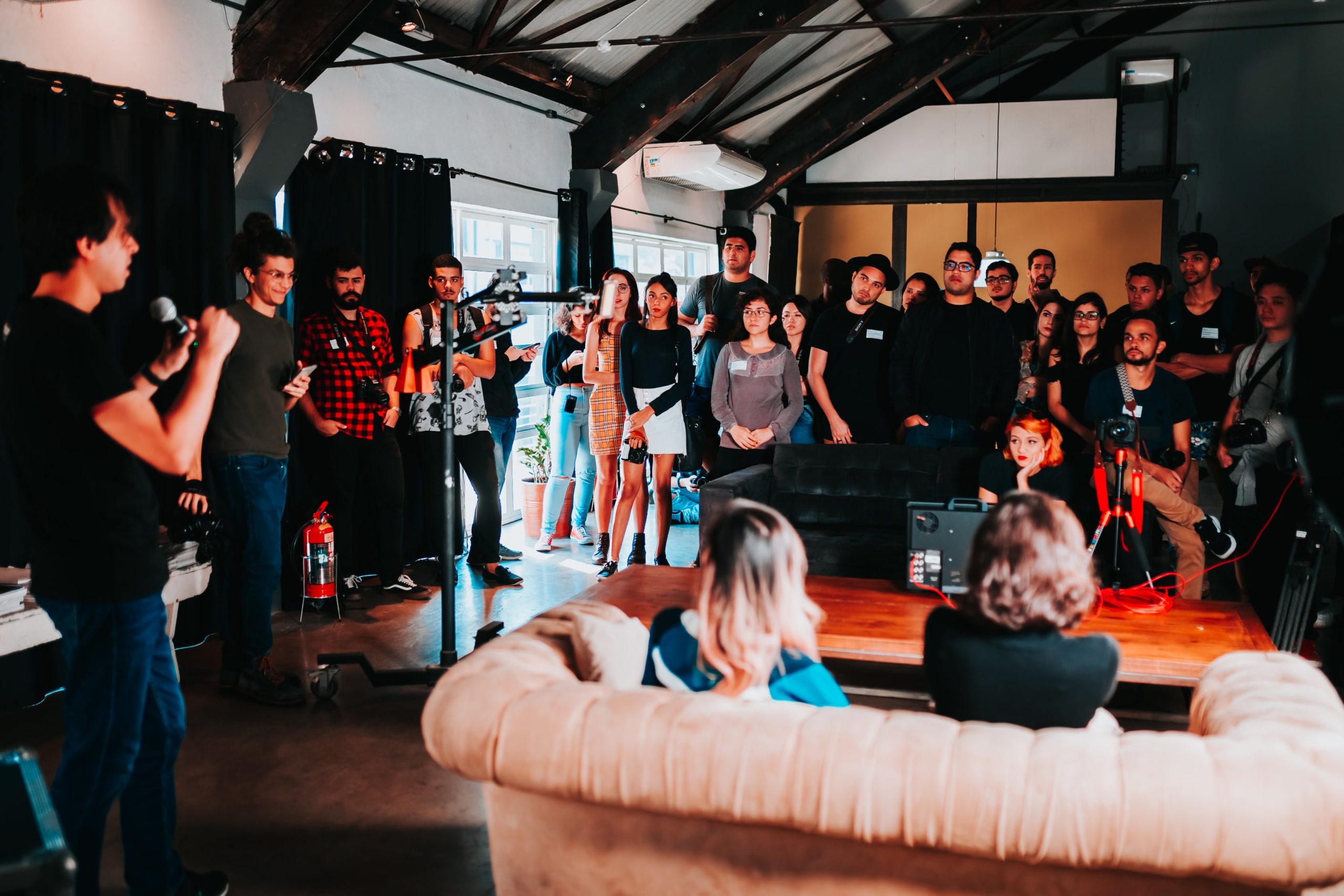 Marketo conducted a study that showed that 50% of the leads are unlikely to make any purchase at all. In another study, MarketingSherpa found that 80% of newly generated leads never go onto make any purchase. How can you convert your leads? This is where the concept of lead nurturing comes in. Lead nurturing is when you develop close relationships with your attendees so that they become your customers. This is how you can do it.
Post-event Networking Party
You can have a small networking event after the main show that the attendees can return to so as to interact with one another in a more casual and fun environment. You can have the event at a venue close to the original event's one so that most people attend. Do advertise about this from before and don't leave the announcement for after the event.
Send Thank-you Messages
Thank the attendees for visiting your event and showing interest in your product. When you send thank you emails to your leads, the message that gets conveyed is that you are really interested to know more about them and value them.
Also, thank your employees for all their efforts. After all, if your event was a success, it was because everyone contributed. Thank you notes from the seniors will keep the juniors and freshers motivated.
Send "We Missed You" Messages
Let your follow-ups not be restricted to only those who came to your event but also to the ones who did not make it. Let them know that you missed them. Send links to your post-event page and other relevant content related to the event to them. You can also tell them about any forthcoming event or webinar that you might be planning in the near future.
Design a Post-event Page
Have a post-event page that will keep the leads engaged and provide you with feedback about your event. In this page you can:
Display event pictures, recap videos, content related to the event, testimonials about the event.
Tweet with a particular hashtag that starts to trend on twitter
Don't forget to showcase the speakers, the food and drinks, other entertainment that happened at the event, and pictures of those who won giveaways and contests.
Have a section where people can leave their comments and thoughts about the event as well. All this will keep
Import Leads into Your CRM
Before you begin to follow up with your leads, you need to have a ready database. For this, you need to import the contacts of all the leads generated into your CRM first. Business card reading apps like ScanBizCards will help you to do this quickly because it will automatically import all your leads into your CRM. When this is ready, the follow-ups can be done. You can also maintain a record of all the follow-up messages that you are sending to your leads. Without this, there will be the risk of sending similar messages many times to the same person!
Follow-up Promptly
If you used a card scanning app like ScanBizCards at the event, you are sure to have a detailed list of all attendees. Follow-up with them promptly after the event to get the maximum conversions. A 'sent to all' email tactic, however, will not work. You need to re-engage with them so that they recall your brand – after all, they must have come across many pitches like yours at the event.
You can make your follow-up emails engaging by:
Segmenting your list – sending the same email to all will be a waste of time. Rather segment the attendees based on their age, profession, location of the business, and the industry of operation. Draft separate emails for each of these categories
Addressing the lead you are sending the email to by his name. When you have captured their names with the help of automated card scanning apps, you cannot go wrong with their names
Making it informative and offering them a solution to their problem. You can also send links to your latest blogs, customer reviews about our product, or information about the current industry trends
A study showed that the email bombardment had prospecting leads unsubscribing themselves from the mailing list. Hence, space out your email sending so that they don't spam their inboxes
Offer incentives like a discount coupon for a limited time period
Invite them to your webinar if you are planning one
Get Feedback from Attendees
Once your event is over, it is important for you to get feedback from those who attended. This will help you rejoice with the positive feedback and plan your next one better. You can do this by sending an online survey to all the leads whose contacts you captured on the day of the event. Some of the questions that can be asked are:
Was the cost that they paid to attend a justified one?
Which was their favorite session at the talk show? / Did they enjoy your session?
Did they learn from this event?
Would they visit this event the next time?
Would they recommend the event to a friend?
What changes would they like to see the next time?
Calculate your ROI
Once the event is over, you need to have some metrics, including the ROI, with which you can measure the success of your event. If the ROI is not as much as you had expected it to be, then you need to evaluate where you went wrong. We will learn more about ROI, event goals, and metrics in the later sections.
Data and Event Technology
When you are organizing an event, it is important for you to devise your marketing plan in such a manner that you can use the latest technology. It will help you to monitor your campaigns better, increase customer outreach, deliver messages more effectively, and will also help you to analyze all the data after the event with greater ease and accuracy.
Martech Tools and Integrations
Globally the martech market is currently valued at around $121.5 billion with an annual increase of 22%. Made of the words "marketing" and "technology", martech is any technology that has an impact on marketing operations. This can be a benchmarking tool, an analysis platform, or any other kind of digital resource. Martech is thus one where technology is used to find a solution to traditional marketing challenges and to increase the outreach of the companies. Some of the important martech trends are these:
Lead Capture with Automated Tools
Capturing qualified leads is of paramount importance to any marketeer. This can be done both easily and quickly when automated tools are used. For example, the use of business card reading apps. These apps come in various versions, can read cards in many languages, and are not expensive.
One such app is the ScanBizCards mobile app that comes in three versions — a free Lite version, a Premium version, and an Enterprise edition.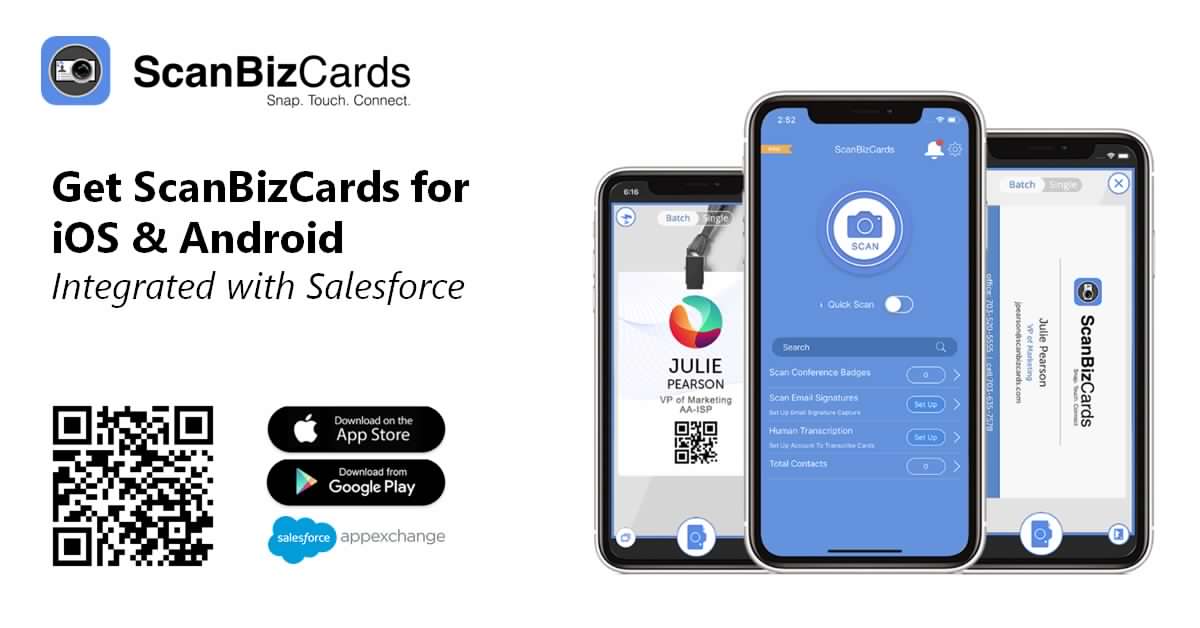 Once you have collected business cards after an event, it is too cumbersome to manually enter the details into the computer so as to create a database of all the leads; not to forget the fact that data might also be incorrectly punched in. Research has revealed that, on average, it takes 1.5 hours to save and export 50 business cards that lead to the CRM! This is indeed quite tiresome and it is thus no wonder that most are reluctant to do this chore. However, if you use a card scanning app then you will be able to do this far more easily. All you have to do is to install the app on your phone and take a picture of the card with the app. After this, it scans the card and all information is entered into the CRM.
Using Technology for Data Analytics
data analytics is no longer just about simple calculations that you can easily do on the calculator. There are many factors that are involved when trying to find out if, say an event or a new product launch has been an as successful one. Hence using technology for such analysis makes the work smoother and more streamlined. Such tools will help you to optimize your KPIs, help you to find out the conversion rate of your generated leads, analyze your return on investment (ROI), and also keep a track of whether the campaign for your event is progressing correctly or not. With this data in place, you will be able to improve when you formulate your future strategies. For example, data unification is becoming popular wherein data is being stringed together to create one picture to understand clients better. For this, solutions like Data Management Platforms (DMPs), Customer Data Platforms (CDPs), and Customer Intelligence Platforms (CIPs) exist.
Reaching out to People Using Social Media
Nowadays social media has become a very important tool to reach out to people. Be it the announcement of an event, getting feedback, or interacting with the audience in real-time – social media is the buzzword now.
The outreach can be increased even more with the help of paid ads and promotions as these will target your potential prospects directly through the profiles that they have on various social media sites.
Another trend is influencer marketing where an individual helps to promote your product to the audience through his blogs and comments. Since he has a huge number of followers who idolize him and relate to him, he is able to reach out to many. Finding and then convincing an influencer might take a little time though. So, do know how much time and finances you are willing to get an influencer on board
Growth in Advertising Video On Demand
A study has revealed that people will start spending more time online than they do in front of the television screen. Hence, it is prudent for marketers to start spending more on Advertising Video On Demand (AVOD). This, in fact, is making tech trends like video analytics a popular one. It has been predicted that the market for video analytics will rise to USD 3 billion dollar by 2022.
Voice Search is Becoming Popular
Even though not many businesses are yet ready to harness the popularity of voice search, this trend is here to stay. While one study predicts that in 2020 half of all searches will be voice-based, Gartner pegs it at a more modest 30%.
Virtual Reality to Deliver Better Product Experiences
A growing trend to deliver better product experiences to customers is to use augmented reality (AR) and virtual reality (VR) technology.
Some organizations have begun to use holograms after China recently released Holobot, a holographic virtual assistant
Natural language processing is being used to understand and to improve the services being given to customers and also to better customer engagement. For example, chatbots are being used to understand queries that are being asked by customers. It is a type of conversational marketing wherein customers can be engaged with, in real-time. It is gaining popularity because of the immediacy with which issues can be addressed. If a customer wants to speak to a salesperson, he does not have to fill in forms or hold the phone line for a long time – he can ask his questions and recommendations are given immediately
Geofencing to Increase Sales
Geofencing is a type of location-based marketing where pre-programmed geographical areas are marked off so that when a mobile device enters this region he can be communicated with. One type of geofencing is proximity marketing. Here, customized personalized content is sent to the user based on how close he is to the predetermined geographical area. This content can be sent via SMS, emails, or via app-based notifications. It helps to:
Increase traffic to the location and in product sales
Engage with user real-time
Increase customer loyalty and improve the brand value
Generate location-based customer profiling
Webinars to Nurture Leads
Webinars are an effective medium to nurture leads. Opt for one that will allow automatic follow-ups, create content that is based on demand together with live elements, and helps to integrate with tools like Facebook Pixel, Google Analytics, and others.
Nowadays market planning is no longer a one-time affair but is rather an ongoing one. Therefore when you plan your strategies you must be able to quickly adapt to changes and emerging trends. With the right use of various technological facilities, this will become a smooth process for you.
Event Leads and Contact Data
A study by Adstage revealed that 68% of B2B marketers hold events for the purpose of lead generation. So as to make lead generation the most effective and get accurate contact date from them, you should keep in mind the following:
Focus on Quality
Sometimes, vendors make the mistake of focussing on collecting business cards, thinking that the more they collect, the more their leads would be. This is a mistake. Rather, you should engage the attendees in meaningful conversations so that they can be converted into potential leads and then into customers.
Time is Important
The event is hosted only for a certain number of hours. The way attendees have only that much time to visit all boots, you too, have only that many hours to talk to people. Hence, even if you find a potential lead who you feel you must speak to, let him be if he is busy at other booths. Instead focus on those visiting your stall, else you might let go of many in your attempt to catch the attention of one.
Simple Lead Capture Process
At one-time lead capture meant taking business cards from the attendees and manually entering their contact details, post the event, into a database. Not only were mistakes made during such entry, but it was also a very time-consuming one. Things have changed now with the emergence of business card scanning & lead capture apps like ScanBizCards. Now, all you have to do is to install the app on your smartphone and click a picture of the card with your app. The contact detail from the card is then automatically transferred onto a centralized CRM.
Determine the Accuracy of Collected Data
There are people who give our dummy email addresses when they visit events and shows. This helps them to get the registration done without divulging the correct contact details. Hence, you might find that the data that you collected on the event day are not all accurate. This would bring down your percentage of genuine leads captured. So as to avoid this, you need to engage with the people visiting so that they willingly give their right contacts or share their business cards with you.
Need More Than Just Contacts
It is not enough to get a person's contacts during an event. You need to get to know more about him as this will help you to draft personalized follow-up emails. It is only then that you have a chance to find yourself a new customer. You can get more information from a person if you engage him in a meaningful conversation. Some questions that you can ask are about their business and what products or services or features interest them most.
Follow-up Should be Personalized
After attendees visit an event they know that they will receive a flurry of generic emails, most of which land up in 'Trash'. So, if you want to make an impact on your lead, you need to send personalized emails. When you draft these emails, use the extra information that you gathered about each lead on the event day. This will grab their attention and increase the chances of conversion.
A lead who has warmed up to you will indirectly help you to generate more leads in the form of referrals. If the lead has developed a sense of comfort with you, trusts you, and has benefited from your product, he will introduce others in his network to you as well
Some of the other ways to get more leads are:
Get in Touch with Lost Opportunities: Not all leads will say 'yes' when you follow up with them. Don't lose touch with those who say 'no'. Keep in touch with them. Often when people see a genuine show of interest from you, they want to give you and your products a chance as well
Connect with Past Clients: There could be clients who have lapsed. Get in touch with them. Since you are already aware of their needs, it would be easy for you to engage them in a conversation. To start off a conversation, you can also send them emails telling them of all the new items in your product line, emerging trends, and others
Have Premium Content on Your Website: Premium content includes white papers, ebooks, case studies, primary research reports that you conducted, podcasts, and others. Make these available for downloads on your website after a visitor shares his contacts.
Event Goals and Metrics
Event marketing involves advertising, managing content, social networking, and more. Each of these needs has its own metrics and benchmarks so that the success of a particular marketing strategy can be understood.
Identify Your Goals
When you are planning an event, you need to know your goals. It is only then that you can use various methods to find out if the event eventually turned out to be a successful one or not. These goals should be:
Easy to understand
Written down so that all are aware of them and can refer back to them whenever necessary
Written in simple words and not full of jargons just to make it appear fancy
Some goals that organizations usually have are:
To increase the awareness of the brand
To increase sales
To let people know about a new product that has been launched
To generate leads
To get more publicity in the form of media coverage
To increase traffic to the website
To increase customer engagement
To have brand ambassadors for the product line
Once you have identified your goals, divide them into primary and secondary goals. The former is what you primarily focus on. For example, if you are hosting your event, your primary goal could be to generate new leads and you're secondary could be to improve brand awareness.
When you have your goals chalked out your entire marketing strategy should revolve around meeting these goals. After the end of the event, it is the achievement of these goals that will help you to find out the success of your event.
Collect Data
It is not enough to just know the goals. After the goals have been identified, you need to know the kind of data that you need to have so as to find out if the goal-achievement happened or not. For example, some of the data that you can need is:
Number of attendees that came to the event that you hosted/participated in
The number of leads that you generated during the event
How many people registered for the event v/s how many eventually came
How many social mentions did you get after the event
How many of the survey response forms that you emailed after the event were replied back to
How many of your follow-up emails were opened
If you were running advertisements, what was its click-through rate
Some goals can be easily measured, while others might need some out of box thinking. For example, if your goal is to generate leads, this can be easily measured by, say, the number of registrations that happened for your event and the number of people who came. However, if your goal is to improve community awareness, then how can you measure it? One way could be to find out what the attendees feel about it before and after the event. For this, you can have a questionnaire that seeks quantitative numbers from them. Hence, you should know how you will measure the goals from beforehand.
Find a Way to Measure
Once you have collected all the data, the next step is to know how to use this data to measure the level of success of your identified goals.
So that no mistakes are made, you should use automated data analytics tools for all your analysis. Use a single platform with integrations so that data management becomes easier.
For every metric that you plan to measure, have a baseline measurement of it. For example, one of your event goals could be to improve your levels of customer engagement on Facebook. For this, you should know what your average engagement numbers are before the event is held. Only then will a comparison be possible.
Analyzing the Success of an Event
Analyse ROI
One of the most useful ways to find out whether an event was a successful one or not is to measure the ROI. Before you can start to calculate your ROI, there are some important pieces of data that you will need. These are:
The data, with respect to each of your goals, before the start of the event
The data, with respect to each of your goals, after the event
The total cost incurred to host the / participate in the event
Calculating the cost incurred to host the event can get a little tricky as there are many costs that can get missed. For example, when calculating the event's costs, don't forget to add the man-ours that your staff put in. Have an accounting software or use an event planning platform so that all your costs stay recorded in the same place.
In terms of revenue, the formula for calculating ROI is: [(Total Sales Revenue – Total Cost of the Event) ÷ Total Cost of Event] X 100
Event ROI, however, can also be in terms of:
Number of registrations and leads generated
Number of sponsorships got for the event
Satisfaction of attendees
Press mentions obtained post the event
Analyze all Goals
While analyzing data, don't be too harsh on yourself. Spending a little more than the budget or earning a little lesser than what you had anticipated does not make the event a failure. It could be that while you fell short with respect to one of your goals, you did better than expected in another. For example, your footfall might not have been too high, but the buzz it created on social media and the positive feedback that you receive is far more than you had anticipated.
Analyze Efficiency
Success needs to also be analyzed in terms of how efficiently you handled the event. For example, if you spent a lot of time, say, on making name tags or sending too many reminder emails you did not handle your time efficiently. On the other hand, if you used, say, automated processes, like business card scanning apps, then your event was efficiently planned.
Analyze Sales Numbers
Monitor your sales figures for a few weeks after your event .to see:
Have the sales gone up
Are the customer's new ones who came to the event or old and repeat ones
While checking on sales figures, also take into account those who are signing up for a trial service as these are likely to get converted soon.
Gather Key Learnings
Once you have analyzed your data and found out your ROI, you will get an understanding of how successful your event was. Data analysis will also reveal insights about where you went wrong and how you can improve the next time you organize a similar event.
Reach out to the attendees as well to know their thoughts and opinions about the event. This will also give you ideas about where you can improve. For this you can:
Send follow-up emails with a survey form
Reach out to them on social media
Call up some of the leads who you feel are very important
Hold a webinar to find out their thought
Attribution
Attribution includes the methods by which one can find out about the additional revenue that is generated due to the event. For example, after an event, how will you know if a lead turned into your customer or not? For this, you might need to track him for a considerable period of time. Similarly, post an event, you should also be able to analyze which, from the various marketing initiatives, contributed to making a lead into a customer. There are many models that will help you in this regard.
The First Touch Model
This is one of the simplest models. As per this model, the revenue generated from a customer is attributed to the first interaction that you had with him, even if that wasn't what led him to buy your product. For example, you might have an interaction with a lead first on your blog, then on a social media site, and finally during the event. If he becomes your customer, the entire credit for the revenue generated is, however, given to the fact that he visited the blog. This model is useful as the calculation of data becomes easy. The disadvantage is that it focuses on only one part of the entire marketing strategy.
The Lead Touch Model
This is one of the most popular attribution models. According to this model, the return generated from a lead is attributed to the first marketing initiative that converted him into your customer. For example, if someone downloads an ebook from your website after filling in a form and you use his contacts to get in touch with him, post which he attends your event, then the event is not given credit for his conversion. Your event will get credit for revenue generated from only those leads who visit your event for the first time on their own. Like the previous model, this one is also easy to calculate but focuses on only one part of the entire marketing strategy.
The Last Touch Model
According to this model, the revenue generated is associated with that action that took place just before he became your customer. Taking the first example, say, you have an interaction with a lead first on your blog, then on a social media site, and finally during the event. If he becomes your customer, then as per this model, the entire credit for the revenue generated is given to the event that he attended. This model is easy to implement and is especially useful for organizations that deal with a huge transaction database. However, like the previous two, it still focuses on only one part of the marketing funnel.
The W-Shaped Model
This is the most accurate model but is one of the most challenging to implement as it takes into account all marketing initiatives that resulted in interactions with a lead. The return obtained from a lead is distributed across all initiatives but what percentage would be attributed to which initiative is left to the marketer's discretion.
Event marketing is an effective marketing avenue to increase customer engagement and to create new leads. Hence, over the last few years, the number of organizations hosting events has gone up. In fact, research by Forrester Research showed that events make up 24% of the B2B marketing budget. These events come in the form of conferences, trade shows, seminars, thought leadership workshops, job fairs, and more. Each needs its own special marketing strategy so as to make it a successful one. If you are planning an event anytime soon, our guide is sure to help you devise the right marketing plan.
Get free insights, stories, news and updates delivered to your inbox.