Get Improved ROI, Accurate Leads and More Closed
Deals from your Events with ScanBizCards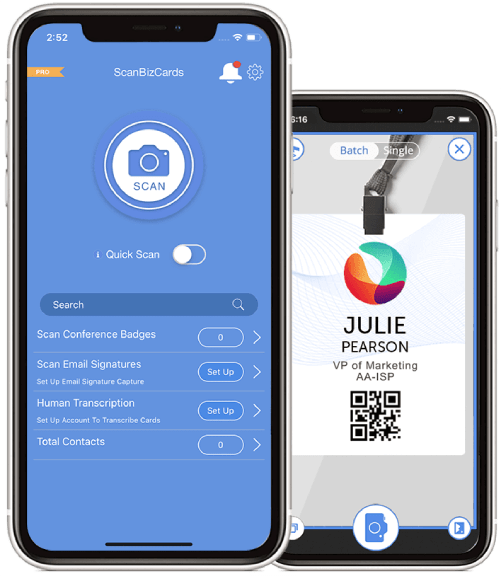 Why ScanBizCards is the best lead capture solution for B2B conferences and events
OCR-powered business card & conference badge scanner
ScanBizCards used Optical Character Recognition to scan business cards and conference badges — making it quick and efficient to capture contacts at events.
CRM integrations and multiple contact exports
ScanBizCards offers integration with leading CRMs including Salesforce and more. You can easily attach contacts / scans to new or existing customer accounts in real-time at events.
Human transcription service
Get your scanned business cards and conference badges Manually Transcribed by our team. You get 100 free transcription credits for every user every year, so can stay focused on making new connections at events.
ScanBizCards' business card and conference badge scan APIs can be integrated with your systems — giving you the most accurate and up-to-date contact data.
Packed with features to boost your events ROI
With our powerful features, it's never been easier to ensure that your reps
capture important contacts at events quickly and accurately. And, every
contact ends up in your CRM.
Best-in-Class Business Card & Conference Badge Scanning
Add new connections in an instant with fast, accurate business card and conference badge scanning.
Connect with New / Existing Accounts
Easily attach contacts / scans to new or existing customer accounts.
Address Book Sync
Customize any / all captured fields to your organization's needs.
Duplicate Prevention
Rest assured that ScanBizCards Enterprise prevents the import of pre-existing contacts in your CRM records.
Assign Lead Owners and Campaigns
Assign lead owners and campaigns to new contacts / leads before exporting them to Salesforce.
CRM Integrations
Export multiple cards to Salesforce simultaneously in an easy, seamless experience.
Easily Run Reports
Admins can view business card scans, email signature capture and user activity reports.
Email Signature Capture
Automatically find and update contacts from email signatures.
CRM Integrations
Export your scanned contacts to a variety of CRMs or via CSV.
Admin Panel
Your admin panel offers custom control over all associated apps used by your sales reps.
Get Your Scanned Business Cards
Manually Transcribed
Send your scanned business cards for human transcription
for hard-to-read cards.
Integrates with the Best CRMs & Marketing Automation Systems
ScanBizCards integrates with leading CRMs and Marketing Automation Systems