Capture more B2B leads at Events with ScanBizCards
ScanBizCards helps you get qualified B2B leads at events and conferences. Maximize your marketing events ROI with ScanBizCards for Salesforce and other CRMs.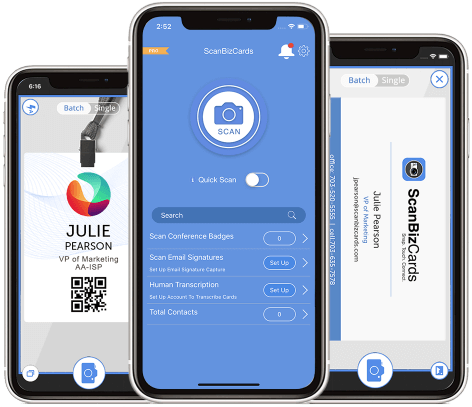 Don't lose a single contact from your marketing events
ScanBizCards offers the absolute best in business card and conference badge scanning, CRM export, email follow-up and much more to give you the maximum ROI from your marketing events. No more losing a business card or having an important contact never make it into your CRM.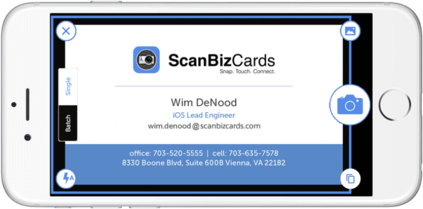 Packed with features to boost your events ROI
Capture B2B leads in real-time with accurate business card and conference badge scanning, CRM export, email and much more
Business Card & Conference Badge Scanning
Add new connections in an instant with fast, accurate OCR powered scanning.
CRM Integrations
Export your scanned contacts to a variety of CRMs or via CSV.
Address Book Sync
Access your cards / contacts anywhere you need them.
Email Signature Capture
Automatically find and update contacts from email signatures.
In one word, it's all about EASE
Easy to download, easy to learn, easy to use
82,000+ Companies
2M+ Mobile Downloads
4.3/5 App Rating
24.6M leads captured & counting
Businesses that rely on ScanBizCards
More than 82,000 businesses from around the world love ScanBizCards
Our users worldwide love our app
Easy to use and integrates brilliantly with Salesforce. The set up documentation for iOS is easy to follow and I did not experience any issues. Sales were very prompt in configuring the licences and have been extremely supportive. Our Sales and Marketing will get a lot of value from this App.

Jonathan Weir
ERP Specialist
Imdex

The product is excellent, far better than what we have been using and the service received by Santosh has been outstanding. Highly recommend the product and the service/support received.
Anthony Renzulli
Director of Sales Operations and Lead Qualification
NS8 Inc.

Very happy with the performance of this app and the support team does a great job of putting us first as a customer

Sean T Williams
Performance Management Consultant
Tech Bridge

I have used ScanBizCards for several years. I recently upgraded to the ScanBiz Enterprise and wish I had done it a long time ago! The folks at ScanBiz made it super easy to activate the app and start using it. The support you get from the ScanBiz Team is first class! I worked mostly with Santosh who was extremely knowledgeable and helpful!

Laura Baker
National Benefits Specialist
Premier Solutions International