Capture more B2B Leads with ScanBizCards—Best Business Card Scanner App For Smartphones
ScanBizCards business card scanner for iOS and Android smartphones maximizes your event marketing ROI by helping you to capture more leads and close more deals!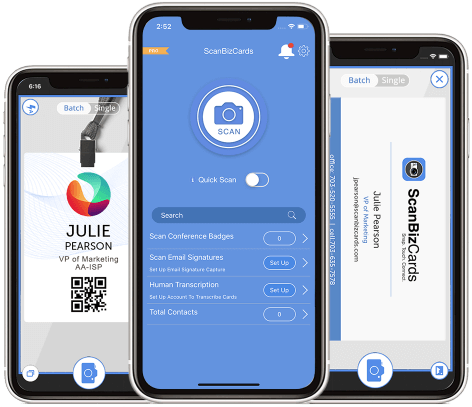 Scan business cards & export directly to Salesforce and other CRMs & marketing automation systems
Capture B2B leads during your events and meetings in real-time. ScanBizCards offers the absolute best in business card and conference badge scanning, CRM export, email follow-up and much more to give you the maximum ROI from your marketing events. No more losing a business card or having an important contact never make it into your CRM!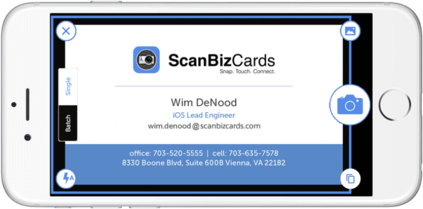 Why ScanBizCards is the best lead capture solution
for meetings, B2B conferences, and events
OCR-powered business card and conference badge scanner ​
ScanBizCards used Optical Character Recognition to scan business cards and conference badges -- making it quick and efficient to capture contacts at events.
CRM integrations and multiple contact exports
ScanBizCards offers integration with leading CRMs including Salesforce and more. You can easily attach contacts / scans to new or existing customer accounts in real-time at events.
Human Transcription service
Get your scanned business cards and conference badges Manually Transcribed by our team. You get 100 free transcription credits for every user every year, so you can stay focused on making new connections at events.
API integration
ScanBizCards' business card and conference badge scan APIs can be integrated with your systems -- giving you the most accurate and up-to-date contact data.
From Business Card to Lead or Contact in Seconds
Business card reader
Scan business cards simply by snapping a photo.
Badge scanner
Snap and save conference badges - no backend integration required with event organizer's systems.We also append contact info such as email, phone, company address and LinkedIn URL wherever it's available.
Salesforce business card scanner
Export data as Contacts or a Leads from business cards or conference badges directly into your Salesforce CRM and marketing automation systems.
Android business card scanner
Built for high performance for Android smartphones.
iPhone business card scanner
Built for high performance for iPhone and iPad.
Business card transcription
Get your cards manually transcribed by our human transcription team, stay productive.
Instant intro email and VCard
Send intro emails and VCard along with a photo so your prospects remember you.
Batch scanning
Batch scan multiple business cards
Business card transcription
Recognizes Czech, Danish, English, German, Finnish, French, Hungarian, Italian, Lithuanian, Dutch, Norwegian, Polish, Portuguese, Romanian, Slovakian, Spanish, Serbian, Swedish, Turkish and Vietnamese.
Packed with features to boost your events ROI
Capture B2B leads in real-time with accurate business card and conference badge scanning, CRM export, email and much more
Business Card & Conference Badge Scanning
Add new connections in an instant with fast, accurate OCR powered scanning.
CRM Integrations
Export your scanned contacts to a variety of CRMs or via CSV.
Address Book Sync
Access your cards / contacts anywhere you need them.
Email Signature Capture
Automatically find and update contacts from email signatures.
In one word, it's all about EASE
Easy to download, easy to learn, easy to use
82,000+ Companies
2M+ Mobile Downloads
4.3/5 App Rating
24.6M leads captured & counting
Businesses that rely on ScanBizCards
More than 82,000 businesses from around the world love ScanBizCards
Our users worldwide love our app
Easy to use and integrates brilliantly with Salesforce. The set up documentation for iOS is easy to follow and I did not experience any issues. Sales were very prompt in configuring the licences and have been extremely supportive. Our Sales and Marketing will get a lot of value from this App.

Jonathan Weir
ERP Specialist
Imdex

The product is excellent, far better than what we have been using and the service received by Santosh has been outstanding. Highly recommend the product and the service/support received.
Anthony Renzulli
Director of Sales Operations and Lead Qualification
NS8 Inc.

Very happy with the performance of this app and the support team does a great job of putting us first as a customer

Sean T Williams
Performance Management Consultant
Tech Bridge

I have used ScanBizCards for several years. I recently upgraded to the ScanBiz Enterprise and wish I had done it a long time ago! The folks at ScanBiz made it super easy to activate the app and start using it. The support you get from the ScanBiz Team is first class! I worked mostly with Santosh who was extremely knowledgeable and helpful!

Laura Barker, JD
National Benefits Specialist
Barker Business Solutions