Business cards are no longer physical data files. With the right software tools, contact data on paper business cards can easily be moved to the cloud for you to access any time, anywhere digitally.
If you follow the right practices when collecting business cards and saving your data, you can turn this data into millions of dollars worth of sales opportunities.
So what are these best practices that you should keep in mind when collecting business cards? Read on to know more.

1. Create Groups and Segment Your Business Card Leads
When you are going into a B2B event or a meeting where you know you will be collecting numerous business cards, define different categories where you would put a particular prospect when collecting their business card, that is, their contact information. This is basically prospecting or segmenting your ICPs (Ideal Customer Profiles). This way, you would not be collecting and storing any and every card without an attribution. You will be scoring your leads based on the parameters you outline for segmenting them before you follow up with them. Your criteria can be:
Leads that meet in your ICPs and you can add to your top of sales funnel right away.
Leads that are not quite at the buying stage or are more in the consideration stage.
Potential partners or referral networks for your brand/product offering e.g., influencers, resellers and so on.
Vendors who you might want to purchase a product/service from and so on.
This will also help you at a later stage when you are sending follow up emails to all those you have exchanged business cards with. For example, you can prioritize follow ups with your top of the funnel leads.

2. Always Save the Leads Digitally
Many sales teams make the mistake of collecting business cards and putting them away in a fishbowl at their booth, or in their pockets or folders that they carry with them at vents or meetings. Often, these business cards are forgotten or lost and never make it to the CRM for timely follow ups.
Business cards are an important source of lead generation – companies and sales people organize and attend events and meetings to get these leads. Hence, the moment you get a business card, the information should get added to your centralized database such as a CRM or email marketing platform.
The best way to do this is to install a business card scanner app on your smartphone like ScanBizCards. It's free, easy to use, and stays in your pocket, unlike physical card readers that are clunky and can cost quite a bit.
This app scans business cards so you save the contacts on your phone's address book and upload them into your company's centralized database. You can add tags and notes specific to the leads on the database. This will help you when you are sending the follow up emails or make a call.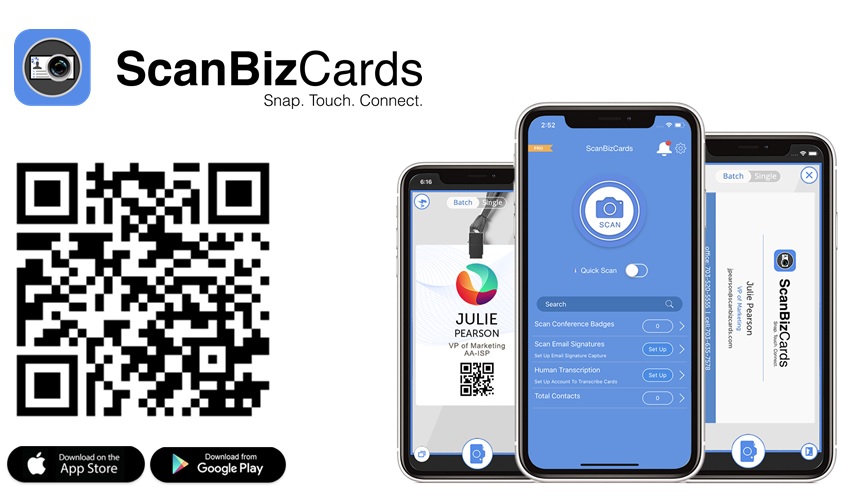 3. Capture all Information
Capture Information From Both Sides
Often a business card has information printed on both the front and the back. While capturing information using a business card scanner, one does tend to forget about the latter. Always remember to flip the card to check if any relevant information is written there.
Don't Let Language Be a Barrier
Often at international events you'll come across business cards in different languages. Don't discard such cards or lose your leads in translation! This is where a business card scanner app like ScanBizCards comes handy as it can scan cards in over 20 languages. Also, when you use this app, if you find that the scan of the card to be blurry – you can get it manually transcribed.

4. Respond Promptly
When you have all the data saved accurately and available readily, you can send a well-drafted, personalized follow up email after the event. In fact, you should drop a line soon after you have collected the business card – a greeting note – to the person you've just saved on your address book contacts. It shows your sincerity and genuine interest in taking the discussion forward. However, keep this mail short and just say that it was a nice meeting and you look forward to discussing more in the near future. You could add your LinkedIn profile in your signature which will help you to connect with the prospect on the professional social media site. If the lead is genuinely interested in your offering, the connection will occur soon.

5. Present Business Cards Professionally
Presenting your business card professionally goes a long way in creating a positive impact.
Know where you have kept your card box so that you don't have to rummage through a pile. Also, avoid keeping cards in your wallet as they might get creased there.
When someone hands you a business card, don't scribble anything on it. Keep an organizer with you where you can write down all notes. Similarly, when you hand over your card to a prospect, don't write anything on it unless the person specifically asks you to write on the card.
Give a card that is clean and not crumpled in any way.
Make sure that your card has all your contact information updated and printed neatly and not one where your old information has been crossed off and the new one been handwritten beside it.
When someone hands you their business card:
Always try to say something positive about it. It could be about the company logo or the design.
Put the card away in a card holder and not just stuff it into your trouser pocket. That looks very unprofessional. Soon afterward, scan it and save it on your phone's address book.
Concluding
You may be impeccably dressed, have a firm handshake, and know all about your company and the product, but if you fail at the best practices of exchanging business cards, then your interaction will not necessarily be an impactful one. Little things can make or break your chances of converting a lead into a new account. So follow these tips, and you are sure to win.