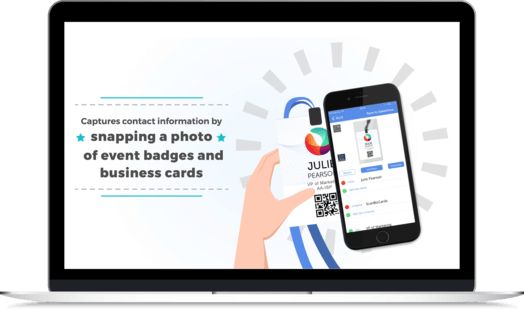 Snap photos of business cards & conference badges and export contacts directly into your Salesforce CRM.
ScanBizCards is trusted by 82,000+ businesses and 2M+ users.
ScanBizCards Enterprise Edition for Salesforce is your key
to a more productive Salesforce.
Boost your sales productivity
Increase the flow of leads into your Salesforce CRM
Get unlimited options for org-specific data customization
Get full admin control of lead flow
Attach contacts to new or existing customer accounts
Assign lead owners before exporting to Salesforce
Capture additional contacts from email signatures
Maximize your Salesforce ROI
Here's what you can do with ScanBizCards Enterprise for Salesforce
Add new connections in an instant with fast, accurate business card scanning
Customize any / all captured fields to your organization's needs
Export multiple cards to Salesforce simultaneously in an easy, seamless experience
Your admin panel offers custom control over all associated apps used by your sales reps
Easily attach contacts/scans to new or existing customer accounts
Easily assign lead owners to new contacts before exporting to Salesforce
Assign contacts/leads to specific campaigns with a single tap
Rest assured that ScanBizCards Enterprise prevents the import of pre-existing contacts in your Salesforce records
Test drive our Managed Package
What our customers say about ScanBizCards
Had trouble getting started with the app and exporting to Salesforce. Santosh at ScanBizCards was extremely helpful getting me up and running. Great support!

Michael Dorsch
Architect
DXI Construction

Really happy with the app and functionality. Any problems I had with set up were quickly resolved by Rohit. Excellent speedy customer service. Will recommend

Sarah Pullen
Administrator
SKP Solutions

ScanBizCards is a great App for collecting Leads and Contacts data. It very easy to use and scan business cards and conference badges. Mudit and Rohit from the support team were extremely helpful and were very quick in their responses. Users love the App.

Vasanth Balagere
Architect & PM
Applied Materials
The one thing that makes the ScanBizCards application stand out is the amazing support that you are provided. Each time I have emailed with a question, someone reply's within MINUTES and is willing to jump on a call right then and there. The support speed that ScanBizCards provides is unmatched and truly makes this app work diving into. This app is an all around winner in my book.

Emily Leavitt
Salesforce & Suppot Admin
Stevens Aerospace