Generating qualified leads or MQLs is the first step to increasing the number of sales opportunities or SQLs / SALs, and thus, the sales revenue for your organization. ScanBizCards is made for marketing and sales teams to help them do just that.
Available in three versions – free, premium, and enterprise managed package for Salesforce – the ScanBizCards app is one of the best business card scanning apps on the market today. It helps you easily and accurately capture and export business card and mailbox leads.
Here are four ways you can do it.

1. Scan Business Cards and Export to CRM
ScanBizCards is one of the most popular business cards reader apps on the market today. You can easily scan your physical business cards – which still remains one of the most popular ways of exchanging contacts at B2B events and meetings. The app offers unlimited business card scans. You can easily snap photos of business cards with your smartphone. The contact information from cards is scanned by the app using OCR technology. The contacts can be saved on the phone's address book or exported to a centralized database system such a CRM or email marketing system (Salesforce, Hubspot, Marketo and many others).
It is able to scan cards in over 20 different international languages including German, French, Italian, and Greek.
Enterprise users using Salesforce can assign new contacts or leads to specified owners and much more. This is useful because it helps you to segment the contacts after which you can send personalized emails to them.
Export Contacts to CRMs on ScanBizCards from ScanBizCards on Vimeo.

2. Find New Leads in Email Signature Blocks
ScanBizCards has an Email Capture feature that allows you to capture potential new leads from your incoming emails. By setting up email signature capture, you can connect your Microsoft Exchange or Google business account to your ScanBizCards app. Once your mailbox account is connected with the app, ScanBizCards will suggest new available contacts from your incoming emails in the past 30 days. Once set up, the app continues to discover additional new contacts that are available from new incoming emails of people that aren't added to your address book contacts. It also suggests any new contact updates that are available such as updated job title, number, company and so on wherever it's available.
Email Signature Capture on ScanBizCards from ScanBizCards on Vimeo.
3. Find Additional Contact Info With Human Transcription Service
The ScanBizCards app has an in-app feature called Human Transcription service. This feature is ideal when you are scanning multiple cards at an event or clearing your backlog of cards. You can badge scan multiple cards and send it to the ScanBizCards human transcription team for a 100% accurate transcription.
We know OCR is never perfect. Poor lighting, shaky hands, different fonts – sometimes business card scans are blurry and you need to manually make some edits before saving the contact. Such cards can be sent to be transcribed manually and the contact data is uploaded to your CRM or account.
Manual transcription saves a lot of time when you are at an event and have a lot of cards to scan but little time or have a backlog of cards the data of which need to be uploaded quickly onto the system.
Other than transcribing scanned cards, the human transcription team also provides additional information, such as the contact's LinkedIn URL, work phone, business email, and company address wherever it's available.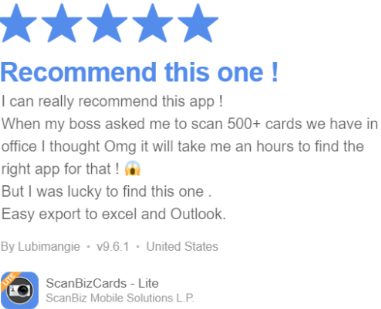 4. Scan Conference Badges
Integrated with Salesforce CRM the ScanBIzCards app not only helps to scan business cards but it scans conference badges as well.
The ScanBizCards app doubles as a conference badge scanner. The best part is there is no QR code integration required with the back-end systems of event organizers. This is most useful at tradeshows and events where people visiting your booth have some of their contact information on their conference badges – such as name and company, but critical info such as email, phone and so on is missing. All your booth visitors are potential leads and losing out on such valuable data would mean giving up on potential clients. Thus, a quick scan of the badges means that no information gets lost. Scanned badges are sent to the ScanBizCards transcription team. Once done, all contact data like email ID, phone number, address of the organization, and others get uploaded to the database system.
Event Badge Scanning on ScanBizCards from ScanBizCards on Vimeo.

Summing up
ScanBizCards which supports third-party services such as Evernote, and is available both for iPhone and Android users, is indeed one of the best business card scanners today. Try it and you will know how quickly you can scan your physical cards and get contacts from emails to generate new qualified leads.