We're half way through 2020 and COVID-19 has certainly had a major impact on the way we do business. Not just business, we've experienced a dramatic shift in the way we live. Some of the changes will likely become normal and have a lasting impact as the world opens up in the post-lockdown era. Businesses have adapted to work from home and remote teams. Organizations have embraced digital in a big way and virtual interactions are now the new normal. Technology is playing a critical role in enabling this shift, helping you in keeping your teams engaged, stay productive and deliver uncompromising customer experiences.
To continue to grow your business, you need to be able to keep track of your clients, interact with customers and colleagues via virtual meetings and video calls, track performance and more – all mostly online. Shifting your operations almost entirely online can be challenging. Luckily, there are some great software tools and business productivity apps for all of your important business activities that will help you to accomplish your tasks efficiently.
In this article, we've listed the best productivity apps for marketers in the post-COVID-19 world.
1. Zoom
Zoom's popularity has skyrocketed in the past few months. With people around the world working from home, Zoom has pretty much become the default mode of communication for remote teams.
Zoom is easy to install, easy to use and offers high-quality audio and video conferencing. You can invite up to 100 people to join you on video, connect with anyone on Android smartphones, iPad or iPhone. It also supports other devices including Windows, Mac, Zoom Rooms, H.323/SIP room systems, and telephones. If you're a marketer, this is a must have app now.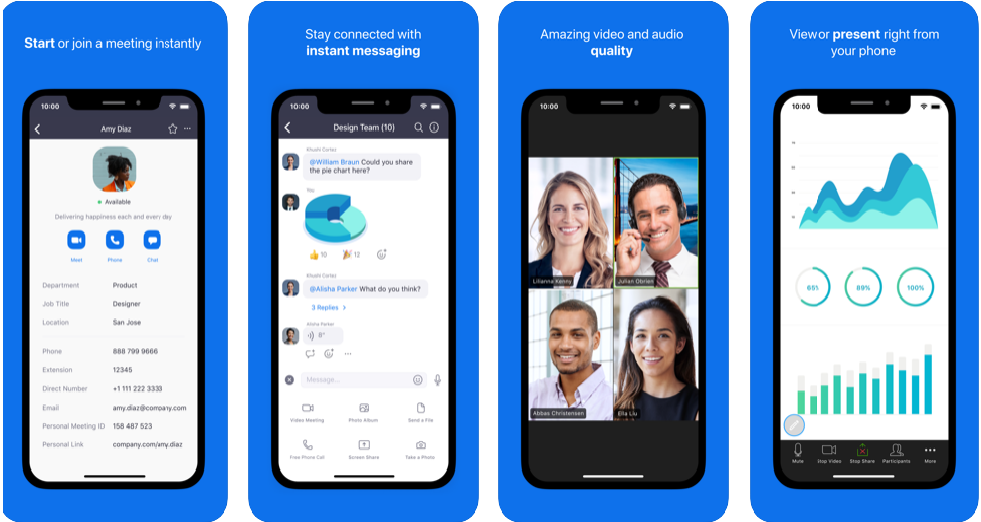 Available for free on Apple App Store and Google Play Store
2. Google Analytics
In the post-Covid-19 world, having an online presence has become more important than ever before. Your businesses must have a website that draws traffic. It is thus imperative for you to know about the inner structure of your website so that you can analyze whether it is performing effectively or not. To be able to do this, you need to know the details of people visiting your website as well as be able to analyze what pages they are visiting on the site, how they're completing your website's Goals and so on.
Google Analytics is one of the most popular web analytics apps because of its sturdiness and depth, efficiency and ease of use. It provides free tools that marketers can use to analyze website traffic to make smarter decisions.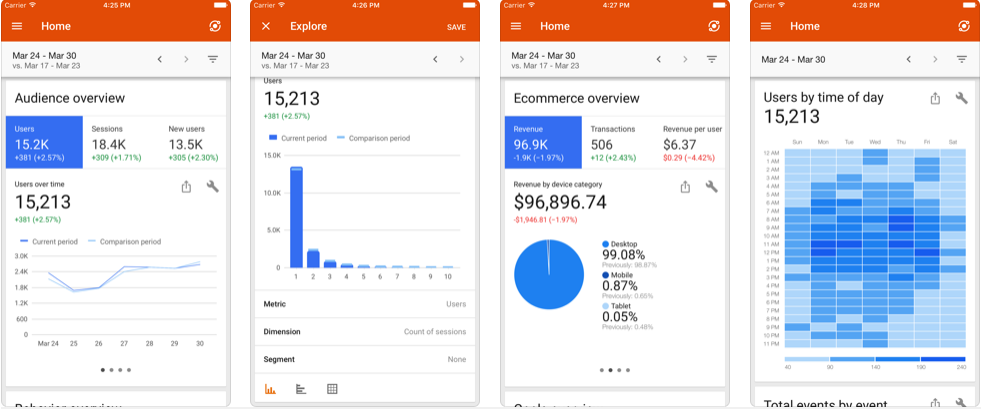 See Google Analytics for iOS and Android
3. ScanBizCards
With over 2 million worldwide users, ScanBizCards is one of the most sought-after business card scanners today. It uses OCR technology to snap photos of business cards and lets you save contact information directly from physical business cards or conference badges on your phone's address book or on a CRM (Salesforce, SugarCRM and many others).
With fewer physical meetings and events in 2020, ScanBizCards can be a great tool to revive leads from your business cards that are often forgotten and left untouched. It also offers a very useful feature called Email Signature Capture which allows you to capture contacts from your email exchanges simply by connecting your email account (Outlook, Gmail or Office 365). As businesses open up post lockdown, this will be a super useful tool to save business cards digitally with little physical contact.
ScanBizCards is a great contact manager and a lead capture tool packed into one easy to use app. With this app, you can:
Export business cards leads directly to Salesforce, Hubspot, Outlook and many other popular CRMs and email marketing systems
Create personalized folders for each saved contact
Send introductory emails to all the contacts on the list
Use its in-app service – Human transcription – to get your cards manually transcribed. This is super useful when you're scanning multiple cards at an event or have a huge backlog.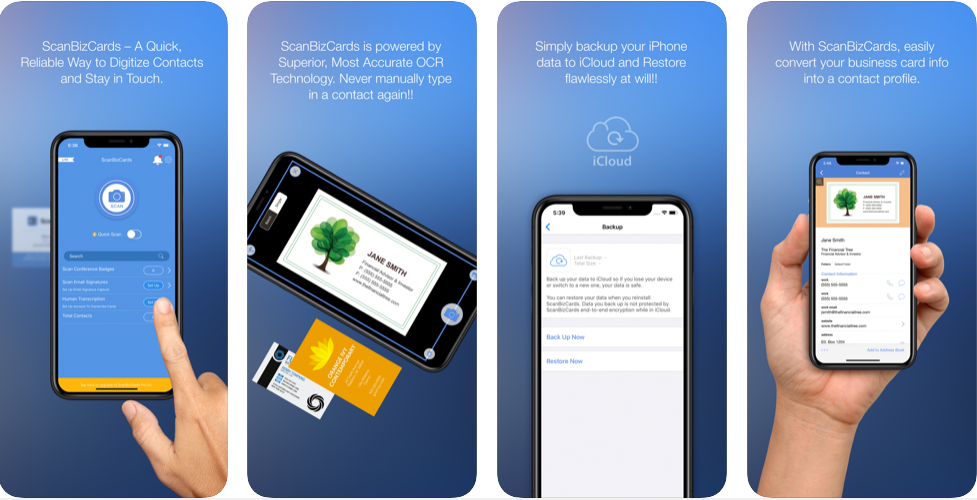 See ScanBizCards for iOS and Android
4. Slack
In the virtual world, emails are no longer the only mode of communication – virtual chat rooms have also become popular, and Slack is one of the most popular virtual chat rooms – used by over 4 million business professionals daily.
Remote work has further led to the growth of Slack, making it even more popular. The app has:
Chat rooms that can be classified on the basis of topics
Private groups
Direct messaging
Easy integration with other third-party services like Google Drive and Dropbox
In the post lockdown world when businesses are just about opening up and a large part of interactions are still being done remotely and virtually, having a tool that can help with easy communication definitely keeps teams more productive.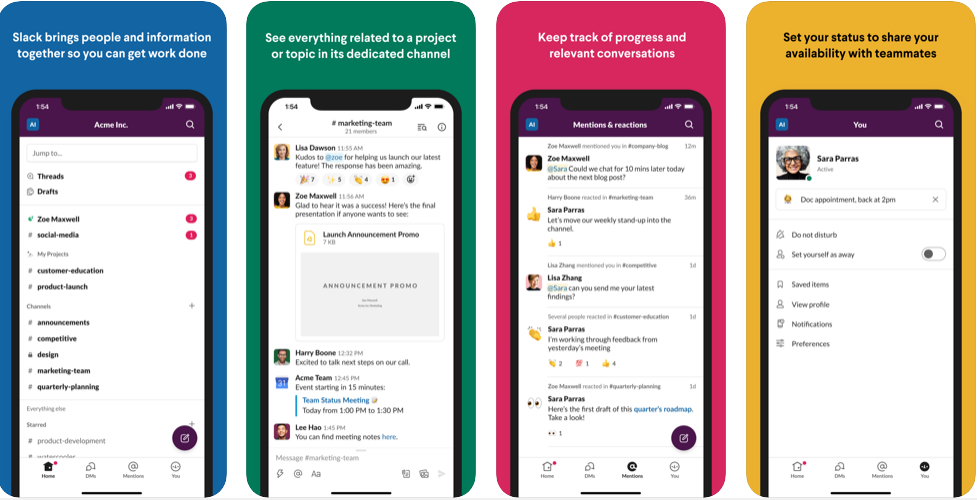 5. Evernote
Evernote is an app designed for note taking, organizing, task management, and archiving. The app allows users to create notes, which can be text, drawings, photographs, or saved web content. Evernote is a free app for your smartphone and computer that stores everything you could possibly imagine losing track of, like a boarding pass, receipt, article you want to read, to do list, or even a simple typed note.
The beauty of Evernote is that it syncs automatically across all your devices, and across all your operating systems. Never lose another post-it note, scrap piece of paper, or notebook that has important information on it. You'll also streamline your desk from a jumble of notes and folders into a single digital storehouse. Evernore has some very useful features such as:
The ability to share notes and whole notebooks with classmates, coworkers, family, etc.
The ability to take and attach pictures to a note right from within the app.
The ability to take and attach voice memos and audio to a note right from within the app.
The ability to attach files (spreadsheets, images, docs) to any note.
The ability to scan text in a photo using Optical Character Recognition technology.
The ability to set reminders for yourself for various tasks, goals, and projects from within the app.
The ability to create checkboxes that serve as virtual to-dos.
The ability to sync automatically between all devices, meaning you can access your notes even when offline. (This feature is somewhat limited in the free version.)
Best of all – it's FREE! There's a premium version that offers a few bonus features, but the freebie offers all of the above.
Evernote is quite a popular app among marketers due to its one of its kind notes taking features which is hard to find among other apps. It's worth having it on your phone as you return to work or continue to work remotely!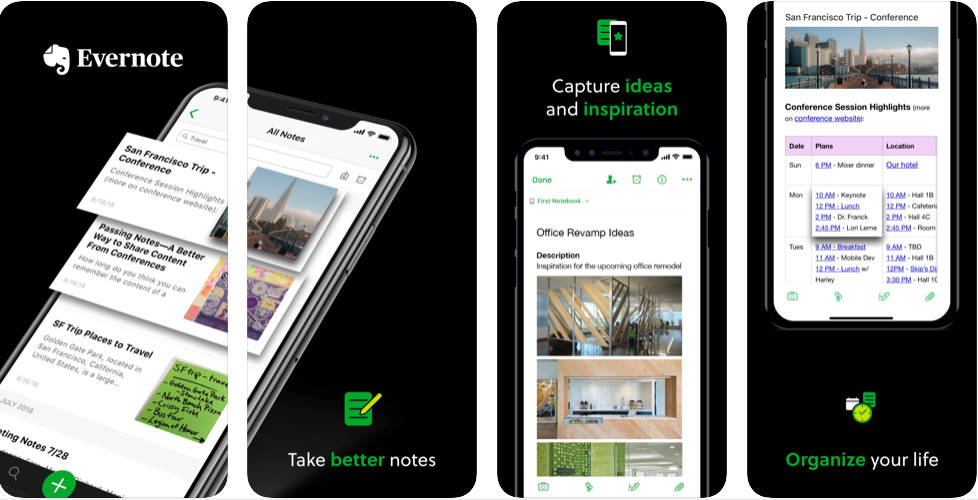 See Evernote for iOS and Android
6. CircleBack
If you're looking for reliable contact management software, CircleBack is one of the best. CircleBack is an automated address book manager which helps you to sync your contacts. It uses intelligent automated software to find new business contacts from your Google, Microsoft and exchange inboxes and removes duplicate contacts. Apart from being a contact manager, the app also has a business card scanner feature that lets you scan your business cards and add instantly to your address book or to your CRM.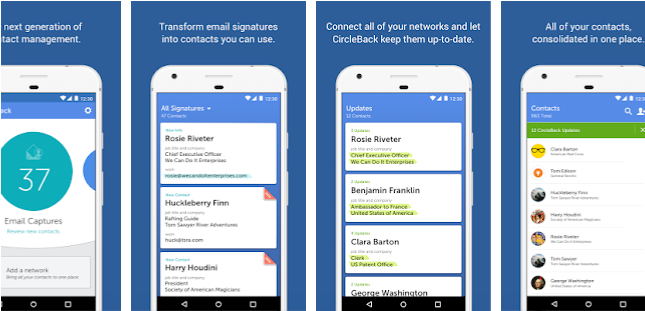 See CircleBack for iOS and Android
7. Expensify
Expensify helps you to generate one-click reports and makes it easy to review them. This is quite a handy tool for everyone because you can get auto reimbursement reports with approval and duplicate detection. You can easily review your sales expenses and view them just by tapping a button. If you've been working remotely, purchasing office tools or equipment and keeping track of office expenses, this is the perfect app to have.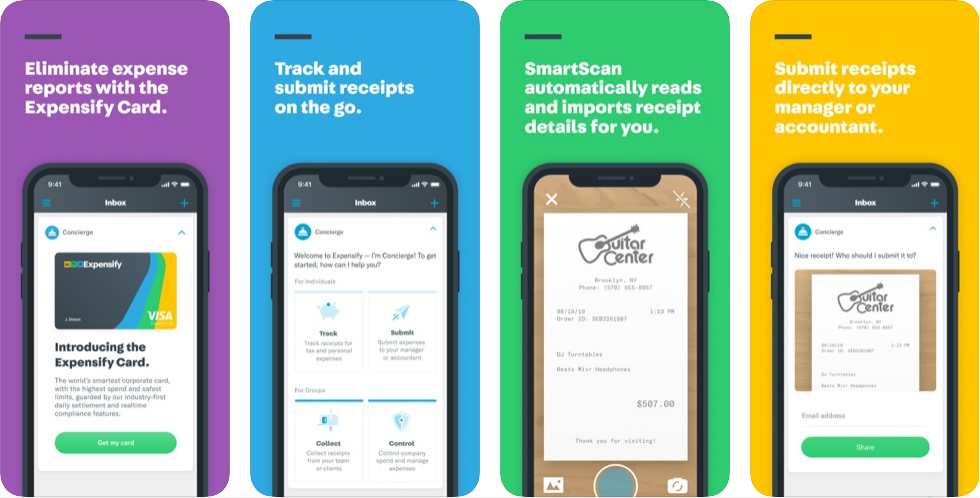 See Expensify for iOS and Android
These 7 apps can help you to manage your daily marketing and sales tasks, reach out to your potential customers faster and more accurately, and stay more productive. Make the most of them as you prepare to return to work to crush your goals in 2020!