Leads are a business' backbone and so sales and marketing teams consistently try to find new prospects to develop and grow the sales and revenue. Technology plays an important role in prospecting. Lead generation, be it online or offline, uses technology in various ways today. For instance, this can be online in the form of running contests, sending of emails, hosting of webinars, carrying out research, in content distribution; or offline through the exchange of business cards at shows and events or during face-to-face meetings. There are software tools for each of these scenarios to help you optimize your lead generation process.
2020, due to the pandemic, has been an unpredictable year. Yet, the world has not stopped and businesses have begun to take baby steps towards revival. So, if you are looking for lead capture software which will help you in lead capture and management, here are the 9 best lead capture software tools you should explore in 2020 and beyond.

1. CircleBack
CircleBack is the only contact management app that you will need to keep your address book up-to-date, and also keep it free from duplicate entries. This professional address book thus helps to stay organized. Here are some key features:
Mailbox systems like Office 365, Outlook, Hotmail, MSN can easily be connected with this contact management app.
It helps to maintain all your contacts in one place.
The app can capture contacts from email signatures.
Before the contacts on the address book are synced, it allows you to take a backup of all contacts. Hence no data is lost.
Any edits that are made are reflected on the contacts.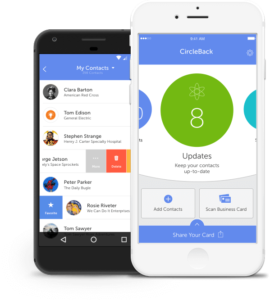 Check out CircleBack for iOS here and Android here

2. ScanBizCards
ScanBizCards is one of the best business card scanner apps on the market today that helps to maximize your ROI from the shows and events that you host and participate in. It easily and quickly captures contact information from physical business cards and conference badges usg the phone's camera with the help of Optical Character Recognition. Data can be exported to a centralized CRM or onto a CSV file. A versatile lead capture and contact management software, ScanBizCards is the perfect companion to your CRM.
It can also be used as a conference badge scanner.
Leading CRMs and email marketing systems like Salesforce, Hubspot and more come integrated with the app.
It has an email signature capture feature and contact information can be captured from your email exchanges and exported to various CRM systems.
It has a feature of getting business cards transcribed manually. Users get some free transcription credits and more can be purchased in-app.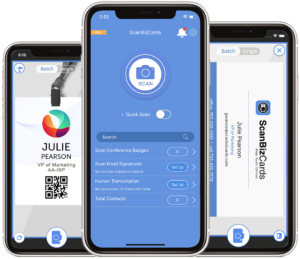 Check out ScanBizCards for iOS here and Android here

3. CleanUp Duplicates
This popular contact manager for iOS devices helps to remove duplicate contacts efficiently and quickly. In fact, it can check approximately 5,000 contacts in 45 seconds! It runs, error-free, on different sources like Gmail and iCloud. Even though it auto runs, the user ia able to be in control. For instance, the merge level can be configured to a complete or a partial matching before the scanning the contacts' information begins. The app checks for duplicates based on the selection made post which all double entries can be removed from your address book. Since it creates a backup of your address book before cleaning, you will not lose any information either. The premium version of the app comes at a cost. However, you can analyze your address book and get a full preview of duplicates for free before you upgrade.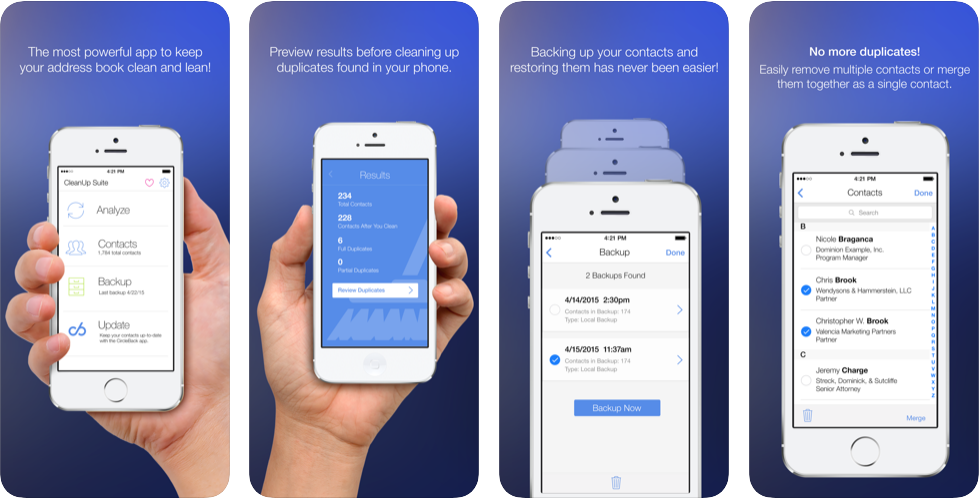 Check out Cleanup Duplicate Contacts for iOS

4. OnSpot Social
OnSpot Social is the app for you if you want to collect data from your prospects. This user-friendly contact manager can be downloaded on your tablet or smartphone. The collected data can be used offline or synced with AWeber, Constant Contact, MailChimp, and iContact. You can purchase the app for a one-off event or get an annual subscription of it. This app will also help you to:
Create games and run contests
Create digital signages and product videos which, in turn, will Increase your ad conversion rates
Improve your email list and your social following
Check out OnSpot Social here

5. QuickTap Survey
With large and user-friendly templates it is the perfect app to use at trade shows and during events.
This app helps to create mobile forms that are used to conduct research.
Your own survey can be designed using this app.
The data can be gathered at a kiosk or in-person.
The generated leads can be exported to CRMs like Salesforce and the information can be used offline as well.
The app has a three-tier pricing system with the monthly advanced tariff being $49 for a single device.
Check out the app for iOS and Android

6. Lusha
This app will help your sales reps to find the B2B contact information efficiently and fast. It has various tools that can be learnt and managed easily. Founded in 2016, this app gathers data from business partners, from data that is present on social media sites, and even from the search results that Google gives.
This app supports sites like LinkedIn and CRMs like Salesforce.
When you visit the profile page, the app scans it. This allows you to see the most recent information of the contact.
New information gets synced to the CRM that your business has.
Your email data can get easily verified.
This app has a free trial version and a pricing structure wherein the starting amount is $39.00 monthly.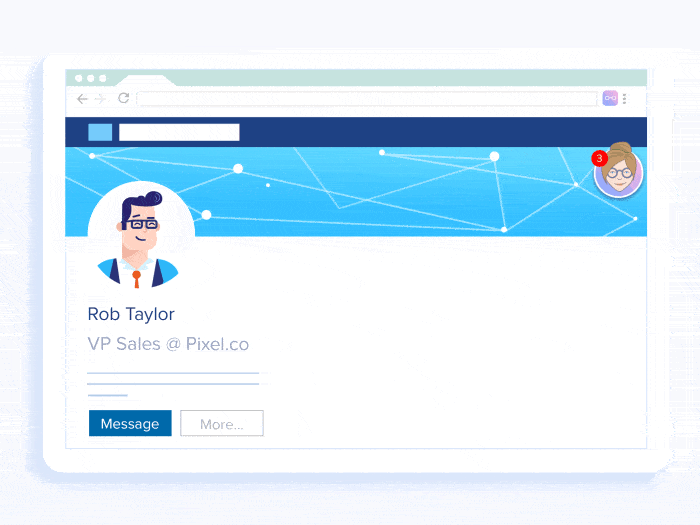 Check out Lusha here

7. Sales Rabbit
Information about all contacts can be kept in an organized fashion with the help of this lead tracking app which runs both on tablets as well as on smartphones. When a certain information is needed by sales reps, they can filter it based on current location, the appointment schedule for a given day or time, details of prospects, and even their interest levels.
Leads can be ranked based on their interest levels in your product offering.
Prospects can be called, or sent a text, or an email directly from the app.
Reps can be assigned specific areas and their progress in that region can also be tracked with the help of this territory mapping software.
The app has features like the form builder and contract creator which help sales reps to collect electronic signatures, thus reducing the time that paperwork usually takes. This, hence, improves sales performance.
The app has various pricing options and a fee of $49 per year for the Team version of the app is the least one.
Check out the app for iOS and Android

8. Survtapp
Survtapp is the app that you should use if you are planning to carry out surveys, market research, or plan to collect customer feedback. The app helps to create customized questionnaires quickly and also helps with data collection and analysis. The required information can be collected by using your phones, tablets, or even on touchscreen kiosks. This app, however, is not compatible with Customer Relationship Management (CRM) software due to which you will have to input all the collected information from the app to your database manually. The app can be used on payment of an annual cost together with additional charges for all extra services that you opt for.
Check out Survtapp here: https://www.survtapp.com/

9. Leadr
You can use Leadr on your own device to gather and then scan all the contact information from your leads. The iOS app also allows you to add notes to each contact.
You can create an unlimited number of events and each can have its own capture fields as well as email bounceback. You can add as many survey questions to the capture fields as you wish to.
With the help of this app you can capture data offline as well.
Events and campaigns can be analysed by using the Dashboard to find out which performed the best.
However, the app does not integrate with any CRM programs. Also with a cost of approximately £29.99 for 100 leads, it is definitely an expensive alternative app to some of the features and integrations that ScanBizCards offers for a much lower price with a lot more capabilities.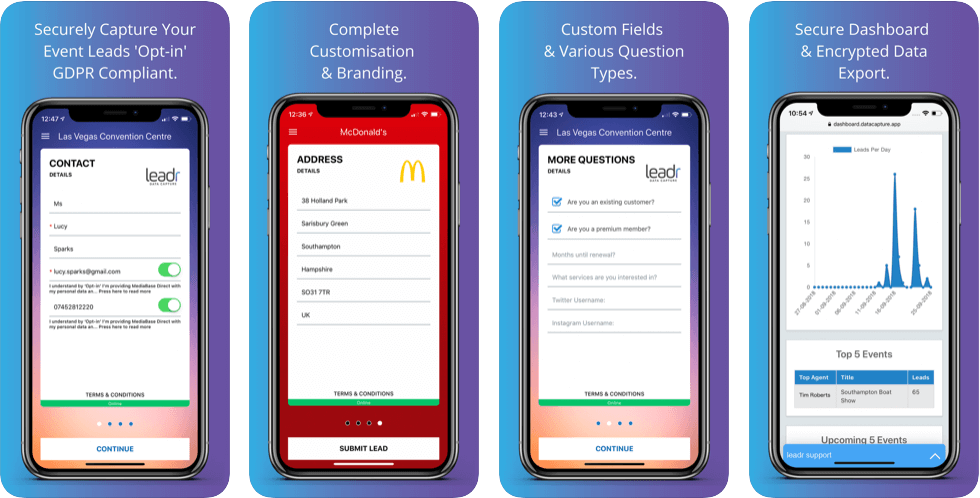 Check out Leadr here

Summary
Conversions of leads results in growth and revenue. Leads can be generated from varied channels like emails, social media platforms, and events. There are many different lead generation software platforms and mobile apps that cater to specific channels. The above nine are popular lead capture software that serve the most commonly sought purposes for sales and marketing teams. If you want to be more productive at generating and tracking new leads, you must try them out!